AlienSwap now supports the Linea mainnet, taking a pioneering step to establish the first NFT trading layer in the Linea ecosystem for NFT code-less creation, zero gas minting, trading, and NFT LaunchPad.
To give back to the community and motivate traders, AlienSwap is launching a series of AlienSwap x Linea events. By participating in tasks and trading NFTs on AlienSwap, users will have the chance to win NFT commemorative cards, limited Discord community roles, and a total of 1000U mETH rewards.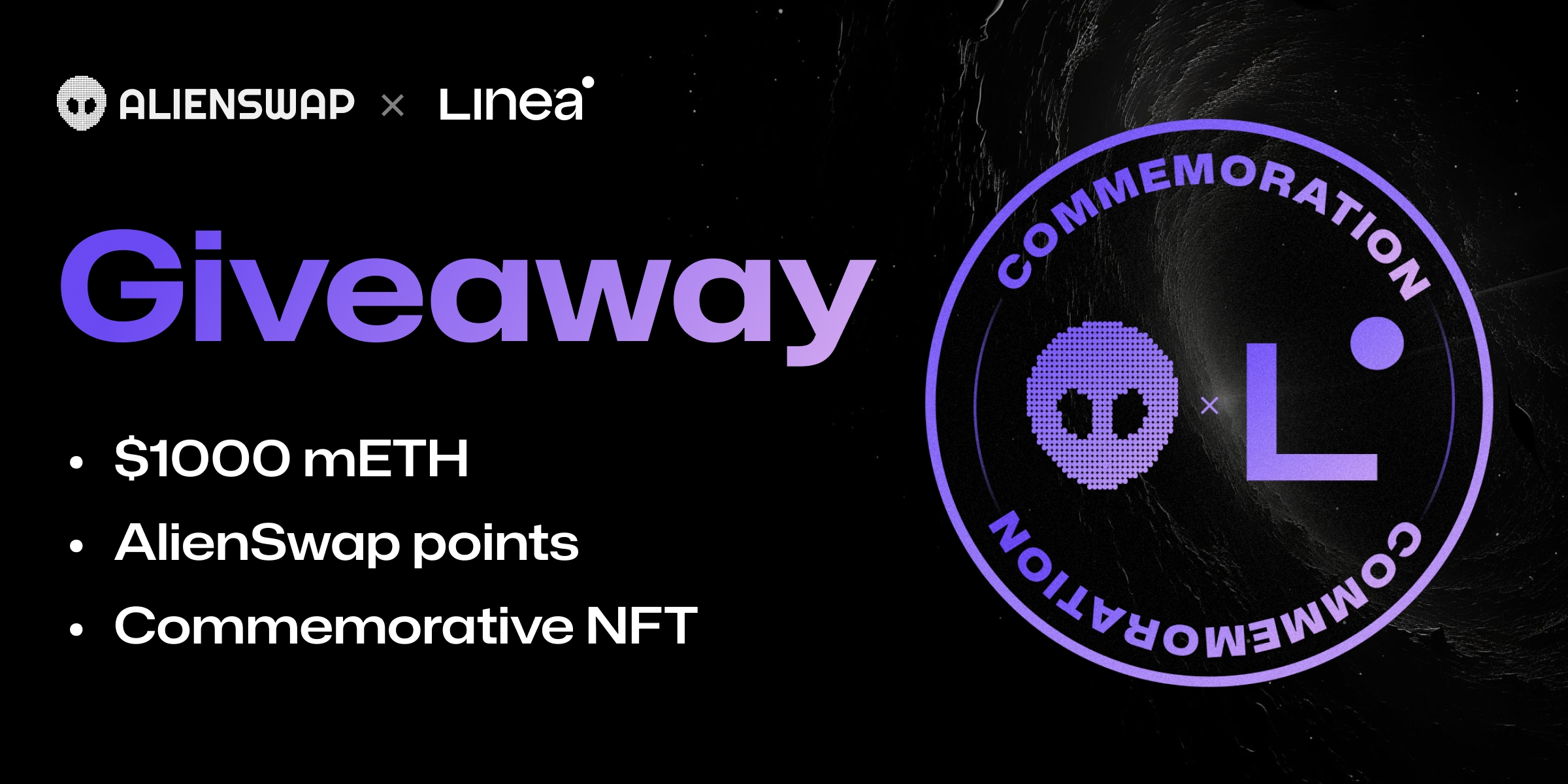 Event Duration:
📅 September 1st, 2023 - September 12th, 2023
How to Participate:
Retweet our event announcement: +10 points

Visit the AlienSwap event page: +5 points

Trade a Linea NFT on AlienSwap:

1 trade: +25 points

5 trades: +75 points

List a Linea NFT on AlienSwap: +25 points

Achieve Linea NFT trading volume:

0.03eth: +25 points

0.1eth: +100 points

Refer friends: +15 points per referral
Note: Points can be exchanged for rewards in our points system in the future. The top 5 users with the most points will get whitelist access to AlienSwap Pass.
Rewards:
Galaxy Tasks: Earn points and whitelist privileges.

Trading Contest: Win NFT commemorative cards, special Discord roles, and a share of a 1,000U mETH prize pool.

Top 1: 100USDT

Top 2-11: Share of 200USDT

Top 12-51: Share of 400USDT

Top 52-100: Share of 300USDT

Top 200: Special Discord role for Linea event
Additional Information:
Any user can mint the CreateX x Linea 0 gas mint commemorative NFT with no limit on quantity. We're also opening applications for Linea project Launchpad collaborations, offering maximum support and integration into our points system.