To celebrate the TOKEN2049 Web3 Summit, AlienSwap will join hands with OKX Wallet, Combo, ARPA Network, Odaily, PaNews, Block Beat, and more quality projects to launch the NFT Summer Mystery Box Festival during TOKEN2049 in Singapore.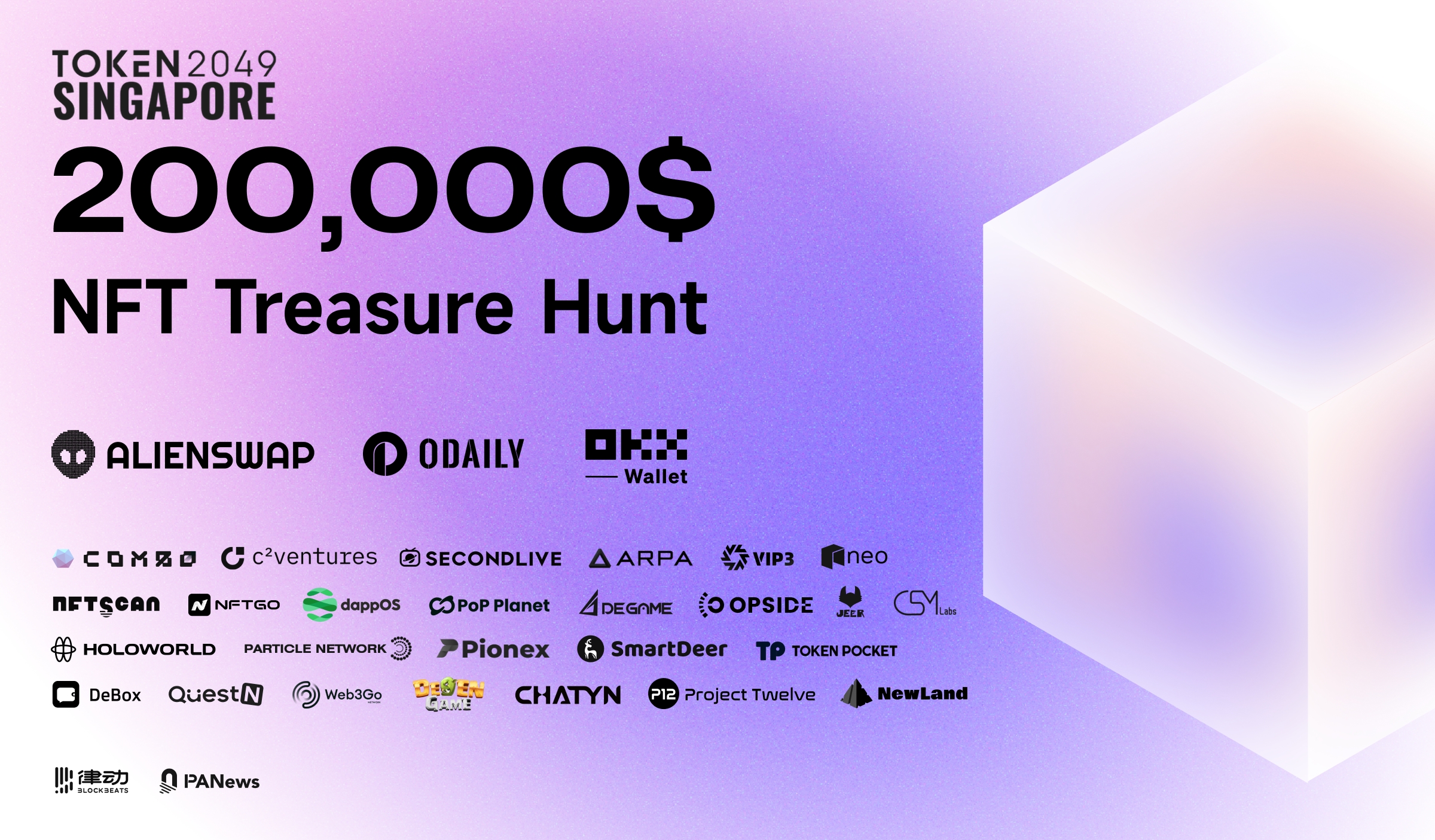 The Festival will contain two parts:
Activity 1: TOKEN 2049 Adventure Co-branded Limited NFT Airdrop
Duration:9.5-9.8
TOKEN 2049 Adventure co-brand limited NFT airdrop is the first activity of the NFT Summer $200,000 Sign-In Treasure Hunt. Each participating user will receive a TOKEN 2049 co-branded limited NFT airdrop through online engagement in supporting TOKEN 2049, celebrating the grand opening of TOKEN 2049.
During the activity, users can obtain exclusive airdrop access through the official social media channels of our partners👉
https://t.me/nft2049
Activity 2: Sign-In Treasure Hunt, share 200, 000 $ NFT Mystery Box Prize Pool
Duration:9.9-9.14
AlienSwap selects the most noteworthy ones from hundreds of TOKEN 2049 activities and thousands of projects, preparing $200,000 for a sign-in reward and an NFT mystery box prize pool.
Users can participate in the TOKEN 2049 sign-in treasure hunt through both AlienSwap's official channels and exclusive partners' channels. Users can sign in at each participating project's booth and activate their NFT mystery box lottery code.
Sign in and treasure-hunt mystery boxes
On-site users can scan the QR code using the OKX Wallet to participate in the mystery box prize pool. For every visit to a partner booth, users will receive one chance for the mystery box draw.
Each opened mystery box will yield a random AlienSwap point reward equivalent to $1-$20.
By completing their first booth visit, users will receive limited-edition merchandise as a special reward, available on a first-come, first-served basis, limited to one per person.
Ultimate Mystery Box
Users who participate in the Sign-in Treasure Hunt activity, complete 3 invited assists, and open 3 blind boxes, will qualify to unlock the Ultimate Mystery Box.
Ultimate Mystery Box Rewards 🎁: $50 ETH, $100 ETH, $500 ETH, Mfer NFT, AKB 48 NFT, Alienware Laptop, and other partners incentives offered 👽.
The more mystery boxes users accumulate through sign-in, the more ultimate mystery boxes.
About AlienSwap
AlienSwap is a community-based NFT marketplace and aggregator, dedicated to establishing a cutting-edge NFT trading layer. The core team comprises individuals from prominent platforms such as OKX, Binance, and head internet companies. Also, we have secured a strategic financing of $12 million from top institutions such as OKX Ventures and C² Ventures.