AlienSwap will launch CreateX Art, a code-free NFT creation platform on 2023, August 1st 15:00.
Below is the comprehensive creator's guide, which includes an introduction to CreateX and step-by-step instructions.
What is CreateX
CreateX Art is a no-code NFT creation platform created by AlienSwap. It aims to help users reduce the cost of NFT creation and inspire their creative passion.
NFT creators/artists can freely create NFT collections on AlienSwap using CreateX without the need for code, which makes it easy to deploy NFT smart contracts quickly.
CreateX URL: https://createx.art/collection/list
Instruction
You can start creating NFT after connecting your wallet. Below is the introduction:
Collection Creation

After clicking on "Create Now" button, you can see setting page of your NFT collection: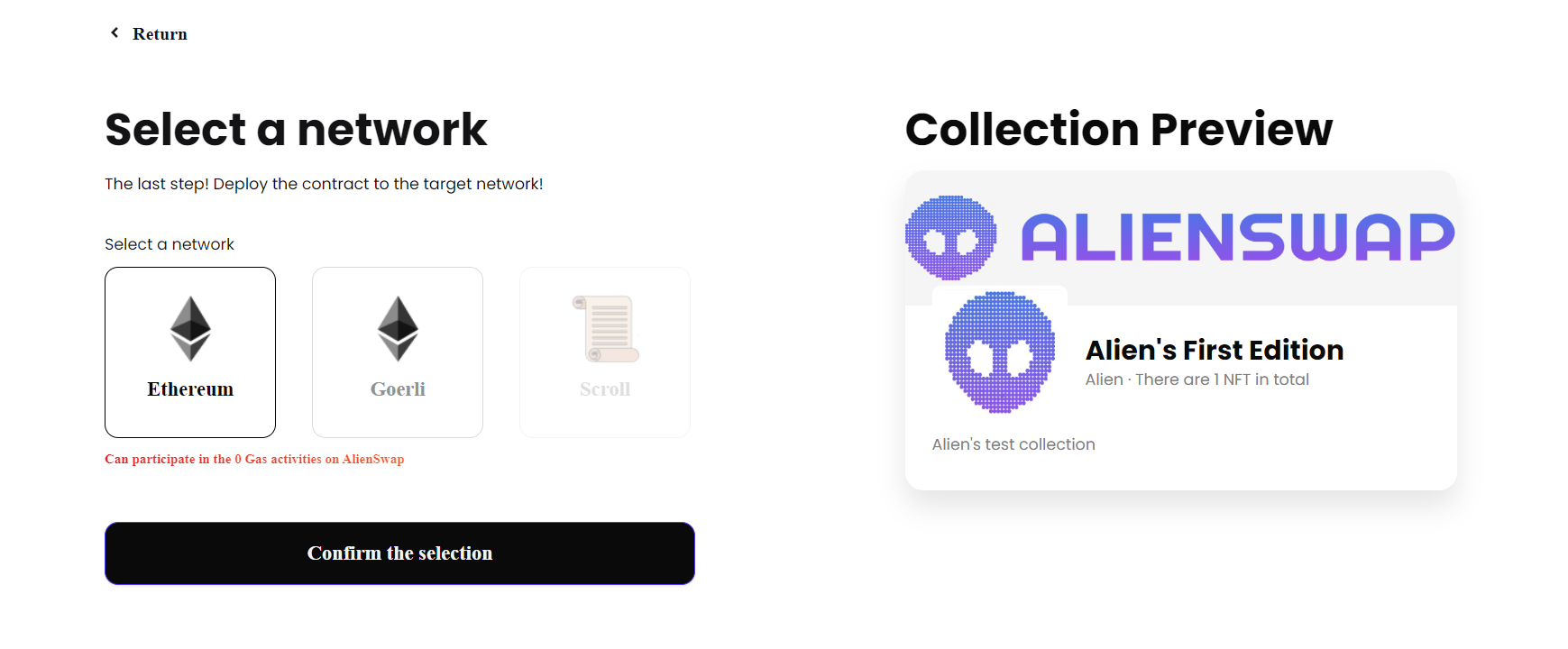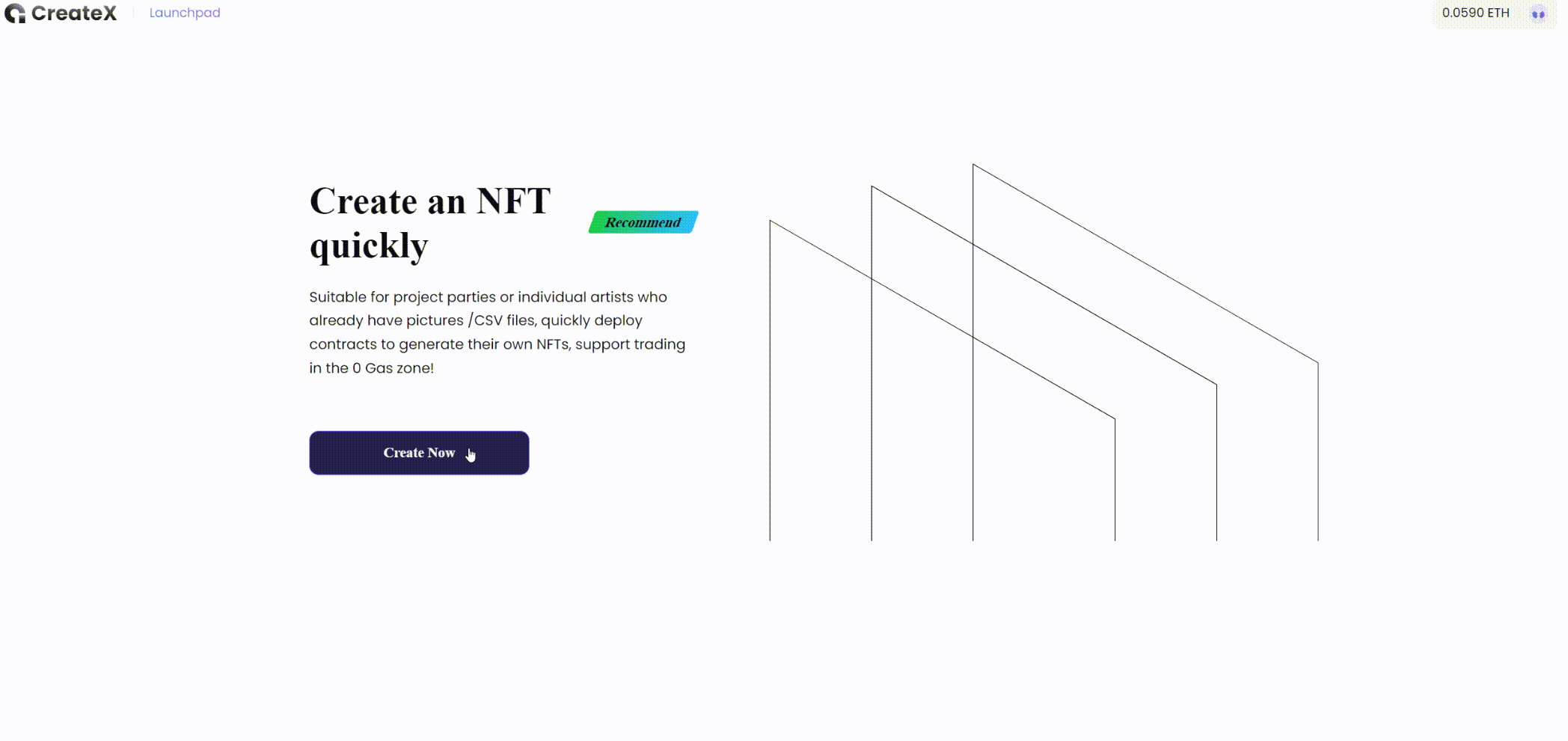 Collection type: Single file/ Multiple file collection
Single-file collection:
Requirements of uploading:
File type supported: MP3、MP4、JPG、GIF、PNG and SVG image, along with CSV, JSON file

File size: Each individual file cannot exceed 2MB.
Multi-file collection:
Requirements of uploading:
File type supported: MP3、MP4、JPG、GIF、PNG and SVG image, along with CSV, JSON file

File size: Each individual file cannot exceed 2MB.

File Naming:

Your drop folder should contain a media folder named "media", containing a media file for each NFT in the collection, a _tokens.csv file with NFT attributes information, and an optional thumbnail folder.

Media must be numbered in a sequence starting from 0. ie. 0.png, 1.png, 2.jpg, etc. These numbers will align with the NFT collection Token ID number and will be minted in this order. File types supported include mp3, mp4, jpg, gif, png and svg.

If you are using non-image media (audio/video), then you can also use the thumbnail folder to upload images for marketplaces to display on list pages. By default they will match on filename: media/0.mp3 -> thumbnails/0.png

CSV File Content Rules:

It is essential to include a CSV file to specify NFT attributes, and it must be named "_tokens.csv.". Failure to include or name it incorrectly may result in NFT generation failure.
The "name" column should represent the name of each NFT and should be in the format [xx#number]. The number in the "name" column should correspond to the numbering in the Media files. For example, if the Media file is named "0.png," the "name" column in the CSV file should be "MyNFT#0."
The "description" column should contain the text description of each NFT.
If you need to set attributes for your tokens, you can use column headers prefixed with "attributes[]", such as "attributes[Hair color]", "attributes[Background]", and so on.

If you are not sure if your current folder configuration meets the requirements, you can download the sample folder on the page for reference and comparison. We strongly recommend modifying and uploading your NFT based on the downloaded sample folder to reduce the probability of upload failure due to formatting issues.

Collection Name: Include at least 1 number or letter, and only English letters, spaces, and English symbols are allowed.
Token Symbol: NFT name
Mint Price and Service Fee:
Mint Price: The fee paid to the creator when users mint NFTs in this collection, in units of ETH.

Service Fee: Additional fee paid by users to CreateX when minting NFTs in this collection.
Royalty Fee: When NFTs are traded/transferred, the seller pays the creator.
Address to receive royalty fee: This can be your personal wallet, a multi-signature wallet, or an external contract.
Advanced Settings: Official site, Twitter, and Discord of this collection.
On the right side of the settings page, you can add and preview the avatar, background, and description of the collection: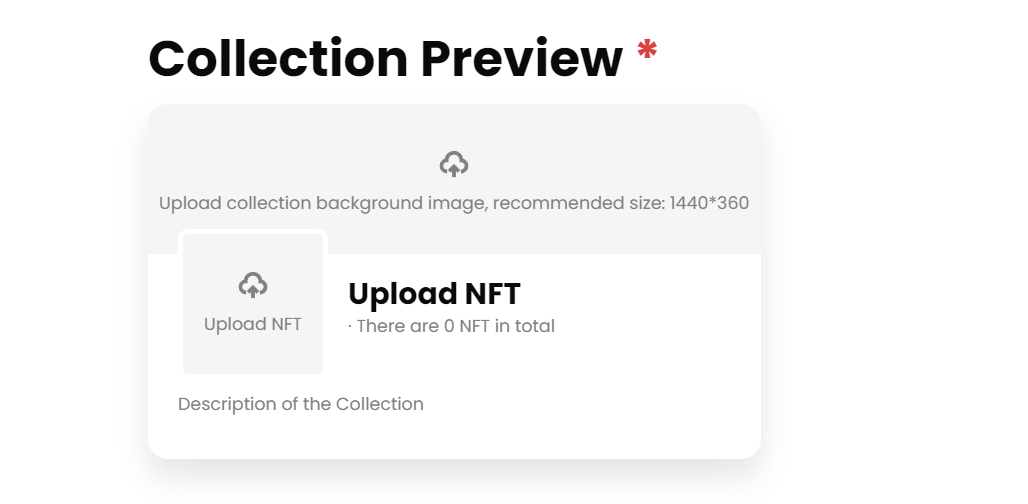 After completing all the settings, the system will quickly create the collection according to your preferences.
In the next step, you will be prompted to select the network on which the collection will be deployed.
Note:
If you choose to deploy to Ethereum network, you will have chance to participate in our 0 Gas activities.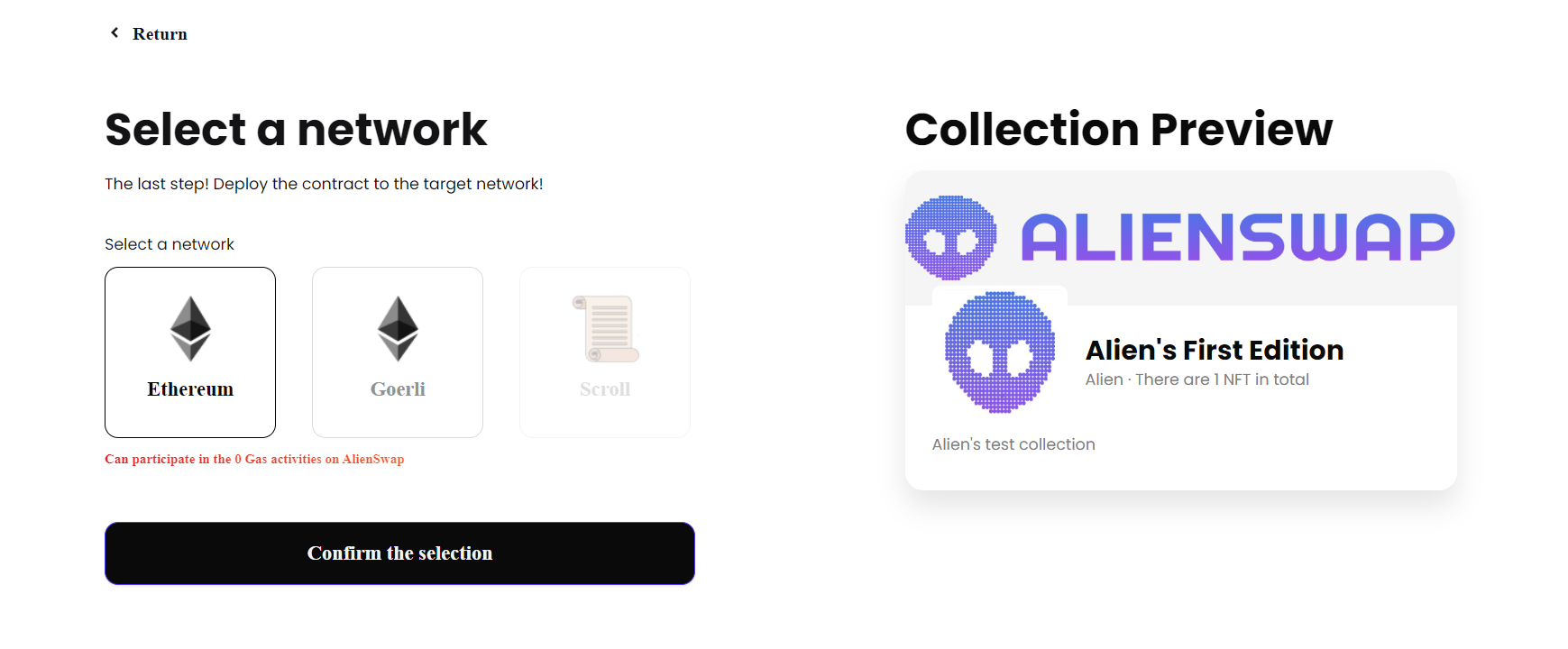 After selection is confirmed, you will receive a prompt to pay gas fee for your collection contract. Once the payment is completed, please wait a moment to check the creation success page.
Note:
You can actively share your collection's minting page on social media and communities, and you can earn by inviting others to mint.

You can click on the "Apply for Official Website Display" button to apply for your collection to be showcased on the AlienSwap official website. If your application is approved, your collection will be featured in the "Hot Collection" section on the

0 Gas Mint page

. Example: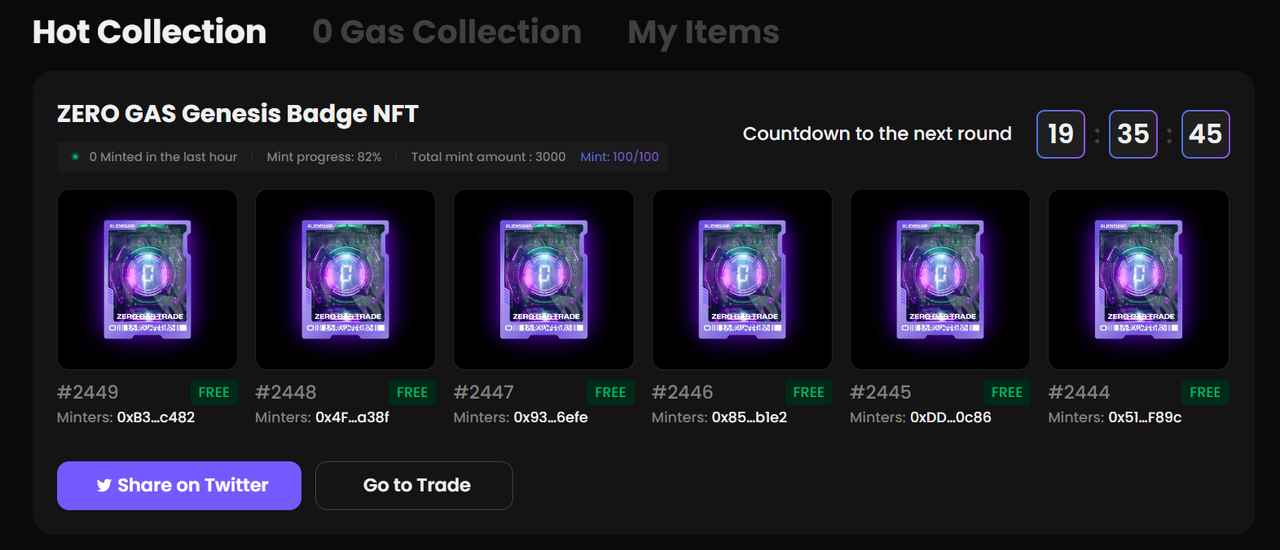 You can create a new support ticket in our
official Discord community
or
Support Center
and provide your address and Collection name to inquire about the application progress. In the future, we will also introduce a user self-service query feature.
Note: Please don't provide your address or any sensitive information in group chats or direct messages to protect the security of your account and assets.
Collection management
Users can manage their created collections on the "Manage Collection" page.
Collections can be sorted by different chains.
By clicking on a collection, you can view information about the NFT, change settings, navigate to the minting page, and collection page, or apply for the official website display.
*There is a certain application threshold for the official website display. Please make sure to provide detailed information when applying. If your application is approved, we will contact you proactively.
Overview
In the overview section, users can see basic information about the collection, including minting earnings, progress, and the floor price.
Users can also view and download the list of minters in a CSV file.
Manage sales
In the "Manage sales" section, besides setting the minting price, time, and the number of mints per address, creators can also establish a whitelist for minting.
The whitelist can be batch-uploaded using a CSV file: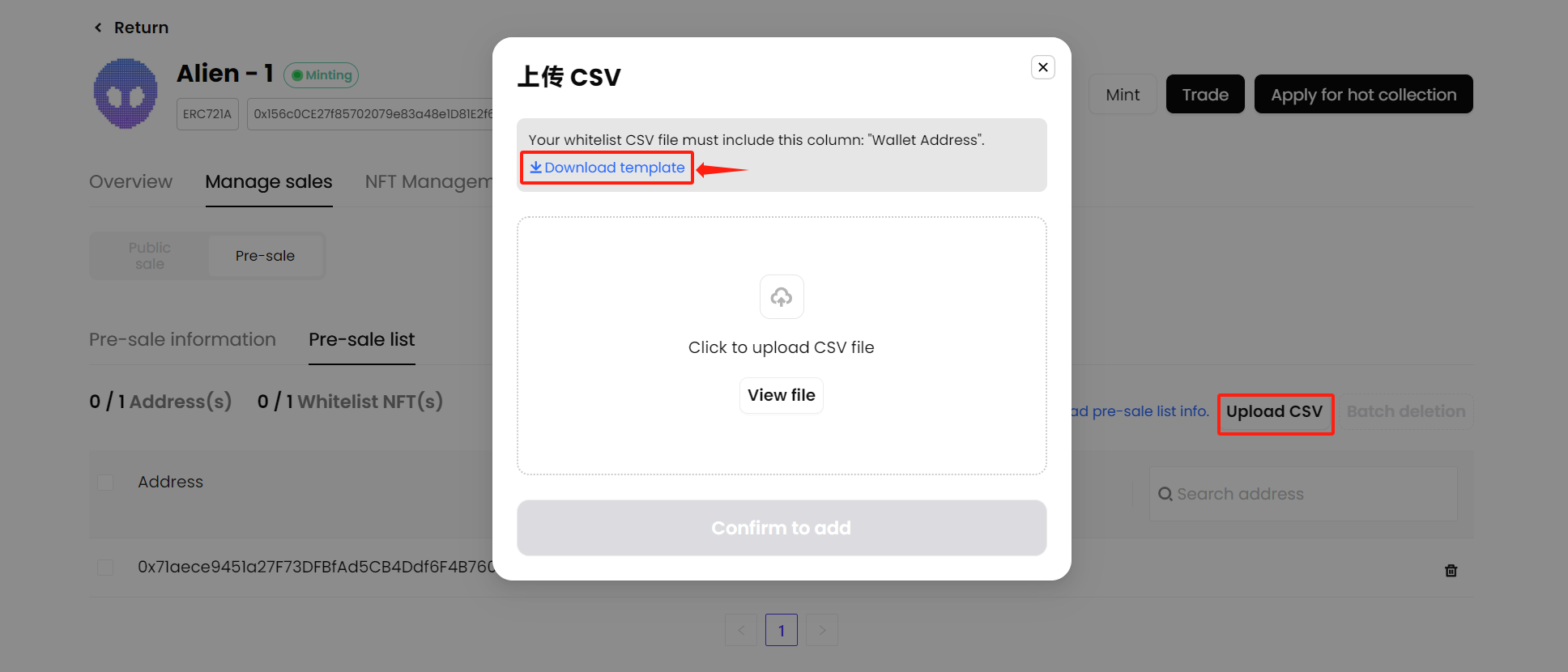 Note:
1、The presale start time should be earlier than or equal to the public sale start time or equal to the current time;
2、The presale end time should be earlier than or equal to the public sale end time;
3、When uploading files, please download the template for reference and consider adding data directly to the template;
4、Before uploading the presale whitelist CSV, make sure to complete the presale information first.
NFT management
In NFT management, users can update the metadata for NFT images, ensuring consistency with the initial creation: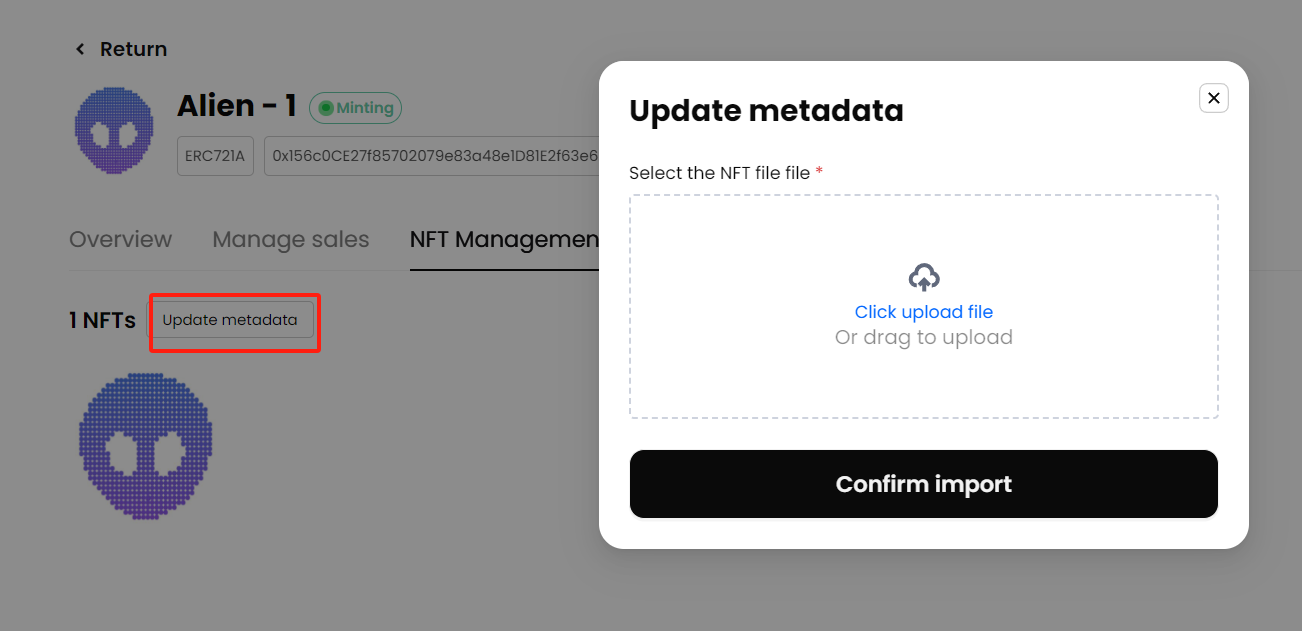 Set Contract
Users can modify some collection information in the contract settings, including collection description, contract ownership transfer, and updates to the official website, official promotion, and Discord information.
Note:
1、Changing the contract ownership is irreversible. Once confirmed, the collection will transfer to the updated address, and it can't be managed from the current address.
2、Making on-chain changes to collection contract ownership will require a certain amount of gas fees.